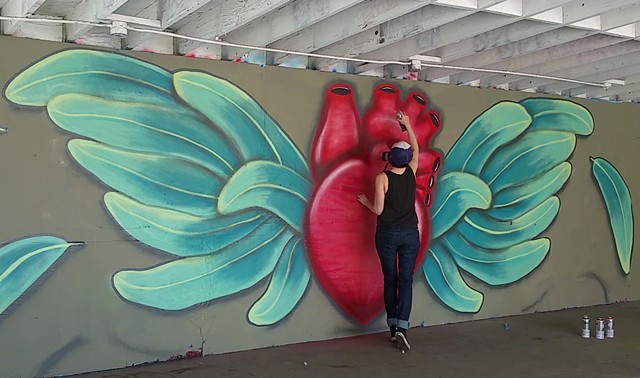 Jennifer Korsen is an LA based artist that works with many mediums. Her mixed media pieces, murals, and street installations can be seen regularly around Los Angeles in galleries, pop up shows, and public spaces. Besides LA her work has been shown in Portland, Seattle, New York, Germany, The UK, and more. Past Clients and features include, Red Bull, Whole Foods, Etsy, Toms, Perrier, UC Riverside, and The City of Los Angeles.
Korsen's recent work is centered around the heart in several different environments and interpretations. Showing non stop since 2009, her anatomically incorrect hearts are instantly recognizable.
Her studio work, murals, and street installations have become a staple in Los Angeles and have been featured in Movies, TV shows, and local and international print publications and art books. Her work has been collected extensively by gallerists, anatomy enthusiasts, and street art collectors alike.
Korsen is currently represented by Lab Art, The Gabba Gallery, and The Hive Gallery in Los Angeles. Please contact about representation in additional cities.



Commissioned work is available, please contact the artist for details.




All images are the property of Jennifer Korsen and cannot be used for profit without permission. All physical work, including commissions, remains the property of the artist until payment is made in full.